Accomodation
Our guest house offers accomodation in 3 buildings.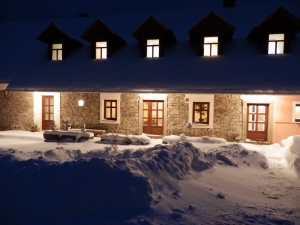 Harus-house
This historical house reconstructed in traditional style offers 3 double rooms and 1 apartment for 4-5 persons.
Every room or apartment has its own bathroom with toilet.
Wooden furniture.
The guests can use a big equipped kitchen.
Free wi-fi.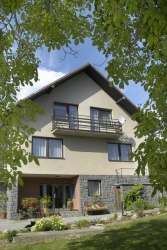 Two apartments of the main building
Apartment Nr. 1
consists of 3 bedrooms (8 beds), large equipped kitchen, balcony, bathroom, toilet.
Apartment Nr. 2
consists of 2 bedrooms (5 beds), bathroom with toilet, kitchenette, balcony.
Free wi-fi.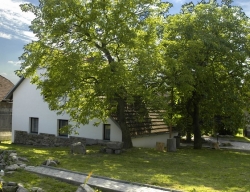 Weekend house
for 6 persons: 1 bedroom (4 beds), living room (1 bed), large equipped kitchen (1 bed), large bathroom.
Free wi-fi.
Equipment and services
TV, wi-fi, parking, bike room, barbecue, indoor fireplace
Breakfast (to order, not included in the price)
Equipment of the kitchens: fridge with a freezer, microwave, cooker, kettle, dishes
In our guest house we speak Czech, English, German, French, Italian.
All interiors of the guest house are non-smoking. The smokers can use outdoor smoking areas.
Cash only.
in the village: general store, train and bus stop (5 minutes by walking), hairdresser
in the surroundings:
beer pub - 5 minutes by train
restaurants, indoor swimming pool, wellness, fitness centre, supermarkets and shops: 3 km (less than 10 minutes by car, bus or train)